Have you ever felt like you were stuck in life but you know you want more?
Maybe you come home at night feeling drained by the daily grind and you can't bear to admit that you are just going through the motions, instead of living a life that lights you up.
Or you climb into your car in the morning, coffee in hand, kids in tow, feeling exhausted and down, and then you glimpse your reflection in the review mirror and think: who is this person? What is this life? I want so much more…
Then it's time for you to take the Gutsy Values Assessment and understand why you feel so stuck in life
AND WHAT TO DO ABOUT IT.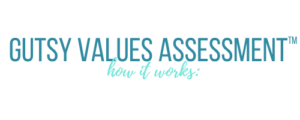 Do a brief Gutsy Values Worksheet and then hop on a 45 min call with me.
You will learn why you can't seem to shake the feeling that you could be/have/do more with your life, and what the MORE might actually look like for you…in under an hour.
At the end you will know:
What your personal Gutsy Values are (and they are not what you think)
What is making you feel stuck in your life.
What MORE looks like for you in life.
One actionable step for you to take to get yourself un-stuck and moving into the life you know you are meant to be living!
Are you ready to get unstuck?
YES! SIGN ME UP FOR THE GUTSY VALUES ASSESSMENT!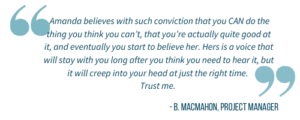 You have the Guts to live the life you want.
You know you want more out of life.
You're awesome and brilliant, and looking for more. You are more than willing to do the work and yet you are still stuck! So what GIVES?
Changing your life can seem overwhelming, I know. Especially when changing your life right now, the way it currently looks for you is ANYTHING but easy.
If you're being honest, it downright SUCKS.
You have spent countless hours trying to figure out what your problem is
You have tried all kinds of tips and tricks to get your life on track and yada yada yada
You feel vulnerable, your self-doubt and fear is getting in your way
The thing is, it is hard to get past those fears without a kick in the butt, I mean come on? Facing those fears is scary, am I right?!
That is what I am here for; to be your kick in the butt. To hold you accountable and make sure you get to the Gutsy Life on the other side of your fears.
So, lets talk about how I can help you live a Gutsy Life.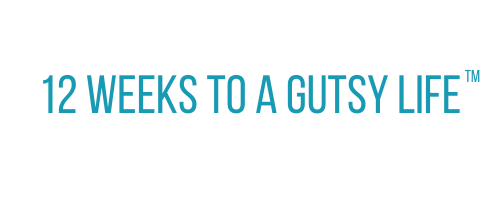 Where Gutsy women find the kick they need to be their most awesome self.
This program is a 12 session, one-on-one coaching program for a Gutsy woman like you, to identify why you feel so stuck, identify what the hell is holding you back, and then empower you with tools and action steps (and yes a little butt kicking) to step through your fears and step into the Gutsy Life you are meant to be living. 
Step 1 Get Clear
We develop a clear picture of who you are, your strengths, weaknesses, thoughts, beliefs, and why you feel stuck. Maybe you keep asking yourself: "what the heck is my problem?" We will work on finding and overcoming the things holding you back as well as developing your strengths through personalized assessments and a daily awareness practice (and a bit of tough love!) so that you can start feeling like your Gutsy self again.
Step 2 Get intentional
We decide what you want YOUR Gutsy Life to look like. We will get clear on what matters to you and lights you up and then design a vision for your life that is doable and exciting! Maybe you have always wanted to travel and work abroad for a year, start your own business, or just be more present and less overwhelmed. Whatever it is, this is the fun imagining-what-could-be part of the journey! The result? You will no longer feel stuck. Instead, you will know what you want and what specific thoughts, actions, and circumstances need to be in place to create YOUR Gutsiest Life.
Step 3 Get Into Action
We design a new path to create the life you want and prioritize the actions you need to take to go out and get it. We will focus on creating one big "impossible" goal you can be excited about working towards and creating a realistic five-year roadmap that is aligned with your values and the vision for your life. Maybe your big impossible goal is to finally make money with your art or quit your day job and open a yoga studio or homeschool your kids. We will craft a clear plan with actionable steps (and maybe a little butt kicking) so that you can start taking action. The result? You will wake up everyday confident that you know your purpose and are being your Gutsiest self and are on the right path to creating the life of your dreams.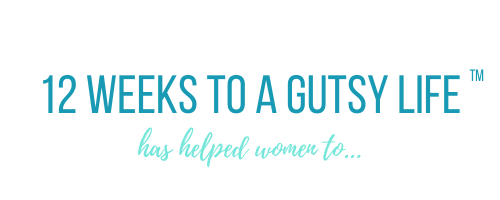 Change the job
Get the relationship
Go on the trip
Start the business
Find their calling
Really go for it
Get UNSTUCK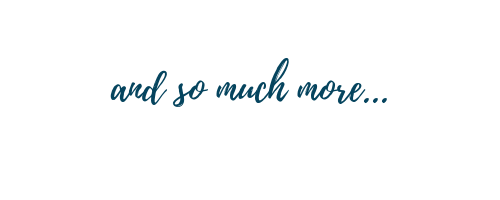 Ready to see what it will do for you?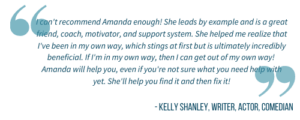 Let me tell you something: you are right where you need to be. It is Gutsy to be here right now, looking for the way, and the change that you need. It takes Guts to live a life on purpose! It is Gutsy to admit that you are stuck, and it is Gutsy to make the necessary changes to get unstuck so that you can live the life you know you are meant to be living…join me…be Gutsy!

Looking for a small intro into your Gutsiest Life? Try the six session Gutsy Goal Setting Package, designed to assist you in creating and defining one goal that you could use to catapult your life in the direction you really want.
I know, goal setting is hard. Changing your life is hard. But it doesn't have to be this way.  Sometimes you just can't go it alone. Sometimes you need a kick in the butt, and that is what I am here for!  So let me be your kick in the butt!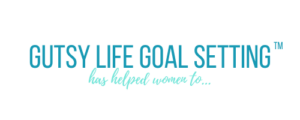 Run the marathon
Get the book deal
Create the healthy lifestyle
Start the business
Be the Empowered mother and wife
Join the Gusty Life
Gutsy lady, you can set goals without feeling like a complete failure. You can and see results. You can even set big goals and actually accomplish them. And you can feel amazing about it either way! Are you ready to set and achieve those goals and live the Gutsy Life you know you were meant to be living?
I'M READY TO LIVE A GUTSY LIFE